Partnering with Your Practitioner: Tips for Being an Active Patient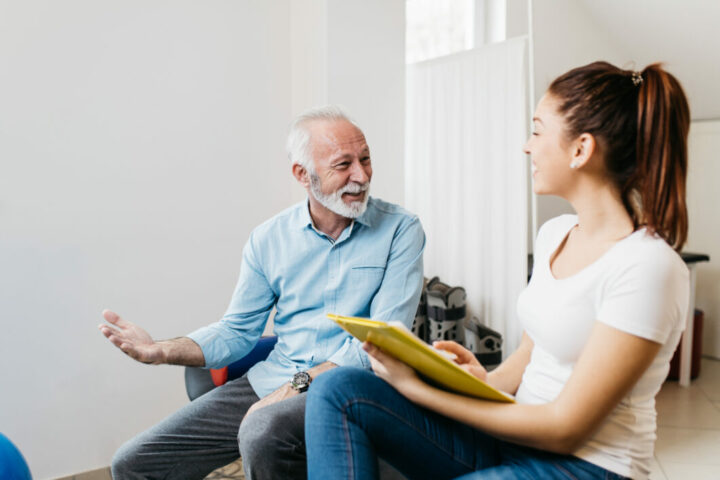 As a patient, you count on your prosthetic and orthotic practitioner's expertise to help you achieve your functional goals. At Prosthetic & Orthotic Solutions, we work hard to earn your confidence by holding ourselves to the highest standards of care. Our technical skills must be matched by our skills as listeners, educators, and motivators for you to have a clear understanding of how things work, why certain options are better than others, and what the realistic consequences of non-use will be. When you play an active role in your care, we can do all of these things well and maximize the benefit you receive from your device. 
Successful outcomes depend on patient-practitioner relationships where trust, respectful give and take, and a commitment to follow-through drive the problem-solving process. The following tips highlight ways you can help us arrive at the best solution for you and keep you moving forward. Working together is the best way to make this happen.
Be a familiar face.
As a Prosthetic & Orthotic Solutions patient, you will be reminded often that there is no cap to the number of visits you can make to our office and no additional charge. We want to see you and assist you in any way that you need, at any time. This is true for all of the products we offer, from the devices we fabricate by hand to the off-the-shelf items we customize or provide as-is for you. 
Bring your questions, concerns, and feedback.
Chances are, whether you are seeing us for the first time or for an adjustment or replacement, you probably have many questions. Writing them down ahead of time and bringing your list with you will ensure we address what is most important to you. The more information we have about your lifestyle, health, and functional needs, the more specific we can get with your device and the options that will be most beneficial for you. Feedback about your progress with a current device, new activities you will be participating in, and any changes in your living or work environments, will help us determine appropriate adjustments and/or suggest new features to meet your functional needs.
Bring someone with you. 
For a variety of reasons, it can be especially helpful to ask a person you can count on for assistance to accompany you to your appointments. Another set of eyes and ears will help you remember key details in caring for yourself and your device. You might find it helpful for this person to take notes while you listen. When dealing with a challenging condition, inviting a caregiver along will help them learn ways to support your recovery and your goals for independence. This person may also have valuable observations to share about your condition and device use.
Be honest.
The more you share about your medical history with us and the doctors and other specialists involved in your care, the better we can fit a device and develop plans you can stick to. Withholding information makes it harder for your treatment team to help you. 
Set realistic goals.
You are on a unique journey. The type of injury or condition that led you to orthotic or prosthetic intervention, your past and current physical ability, overall health, and motivation are among the many factors that will help determine realistic, achievable short- and long-term goals. Together, we will find a pace that is just right for you. Avoid comparing your progress with someone else in a similar circumstance. While it can be very helpful to exchange ideas and gain inspiration from others, understand that two people with the same device can function very differently. 
Don't assume or accept that pain and discomfort are just part of wearing a device.
Adjusting to a device may feel awkward at first. You may feel pressure in places that takes some getting used to. Pain is another story. If your device is causing you pain, you should never feel that you have to learn to "deal with it." In order to stay motivated and keep working at using your device consistently, it needs to fit comfortably. Let your practitioner know immediately if you are experiencing pain.
Don't wait to report any problems with your limb or your device.
It is much better to address a problem when you first detect it. Letting something go unattended for a long period of time can make the problem worse, lengthen recovery time, and derail progress you have made. If you have an issue, do not wait for your next scheduled appointment. We want you here when you have a problem. You are never an inconvenience!
Stick to your treatment plan.
As eager as you may be, follow your wearing schedule. Doing too much too soon with a device can risk injury and actually set you back. Conversely, if you are having difficulty following through on a plan, please be truthful and communicate that to us. Compromise is often an essential part of the process. It is better to arrive at a plan that you can adhere to and receive benefit from than to abandon your device altogether.
Keep appointments.
Life happens and we understand that there are times when you cannot keep an appointment. Rescheduling promptly minimizes delays in paperwork, receipt of devices, and overall recovery time. The same applies to appointments with your primary care doctor and any other specialists who are involved in your care. Skipping visits interferes with our ability to provide you with your device or supplies in a timely manner.
Follow healthy living habits.
Our bodies heal best when we focus on our overall health rather than just the site of injury. Getting plenty of sleep, eating well, staying hydrated, refraining from smoking – all of these things will have a positive impact on your recovery. If your orthotic or prosthetic need is related to an underlying disease, such as diabetes, work closely with your physician to manage additional health risks that can compromise your progress. 
Stay on top of your insurance coverage.
We appreciate that insurance forms and requirements can be complicated and always do our best to help patients navigate the process. With that said, you are ultimately responsible for obtaining insurance and knowing what your plan does and does not cover. Speaking directly with your insurance provider will ensure we all have the same information about your coverage. Be mindful of renewal dates to avoid a lapse in coverage. If selecting a new insurer, research and compare plans carefully. Communicating with us about any insurance changes and documentation requirements will avoid delays.
Keep your primary care physician (PCP) informed about the assistive devices you are using.
At your regular PCP visits, be sure to update your doctor on your device use. When you need supplies or a replacement device, a doctor's prescription is required. This will be an easier process if your needs are well documented in visit notes, particularly if you are no longer seeing the surgeon or specialist that issued the original order.
Forming long-term relationships with our patients is one the things we enjoy most about our work. We appreciate the variety of circumstances that bring patients to us. For many, the journey requires putting forth great physical and emotional effort to heal and achieve mobility goals. Our hope is that you leave each appointment feeling confident and in control of your treatment plan. With your active participation, we will provide you with the support you need to be successful. Together anything is possible!
Resources
Partners in Progress: A Guide for People with Lower Limb Amputations. West Springfield, MA: Prosthetic & Orthotic Solutions, LLC.: 2018.