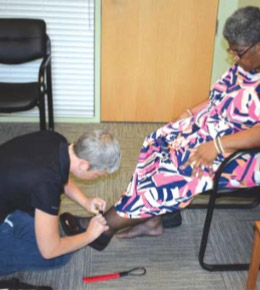 People benefit from therapeutic shoes and foot orthotics for a variety of reasons. For some patients, there is a clear diagnosis we are treating, such as offloading pain and swelling from diabetes or vascular conditions, or fitting a shoe to a foot deformity or partial amputation. Others are seeking relief from discomfort that is interfering with their daily activities, but they are unsure of the root cause. Specializing in lower limb anatomy and biomechanics, our pedorthist will evaluate your condition and identify the appropriate corrective footwear or supportive device for you. Together, you will develop a strategy that offers relief. Correct support of the feet and lower limbs often relieves pain in other areas of the body.
Solutions range from off-the-shelf products to customized shoes and inserts that require a prescription. There are many avenues to pursue that can bring improvement – from adjusting the physical features or materials of a shoe to orthotically manipulating the foot to disperse pain and pressure.
Prosthetic & Orthotic Solutions is proud to carry the most extensive selection of diabetic and therapeutic shoes in our area. Extra depth features provide a custom fit and accommodate orthotic braces/inserts and prosthetic fillers. Seamless construction reduces skin irritations.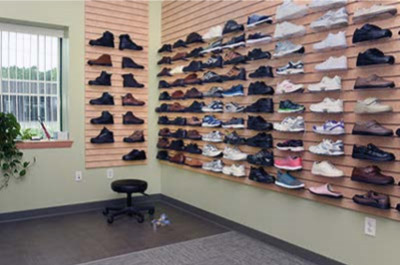 Brands include:
Apex
DR Comfort
Jerry Miller
Mt. Emey
Orthofeet
Propet