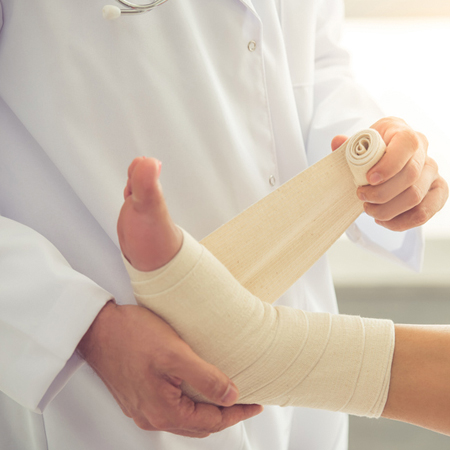 Prosthetic & Orthotic Solutions offers the support, adjustability, and product variety to see patients through every stage of the healing process. We fabricate custom devices from cast or scan in our state-of-the-art lab, as well as fit patients for off-the-shelf, medical-grade products. From acute recovery to maintenance and prevention, we uphold the highest standards for product quality and compassionate care that all patients deserve.
Successful wound care requires a group effort. Collaborating with patients, physicians, and therapists, we design and customize prescribed devices, ensure comfort and stability, and provide personalized instruction. We aim to educate and empower patients so they feel confident adhering to treatment regimens, inspecting wounds and limbs regularly, and alerting us to concerns for prompt intervention.
An Overview of Wound Care Products
Rigid Offloading Boots and Shoes
Rigid offloading orthoses allow severe wounds to heal by alleviating pressure and restricting movement that can otherwise aggravate and slow healing. Our custom offloading devices provide relief and help prevent further breakdown or injury.
CROW (Charcot Restraint Orthotic Walker) boots are prescribed for immobilizing and offloading the mid-foot for patients with Charcot Foot, a diabetic condition in which bones migrate and fuse, causing inflammation, ulcerations, and fractures. CROW boots can be used to treat wounds, ulcers, structural deformities, posterior tibial tendon dysfunction (PTTD), fractures, tendonitis, severe flat foot, Achilles tendon contractures, and more.
Benefits include:
Comfort, stability, and adjustability
Removable for cleaning and wound inspection
Heat-moldable inner layer offloads wounds and bony prominences
Thick sole and tread for walking; wedges and other materials can be added to footwear for the opposing foot to keep the pelvis level
Transfer patterns for customizing the outer shell
Diabetic Shoes and Inserts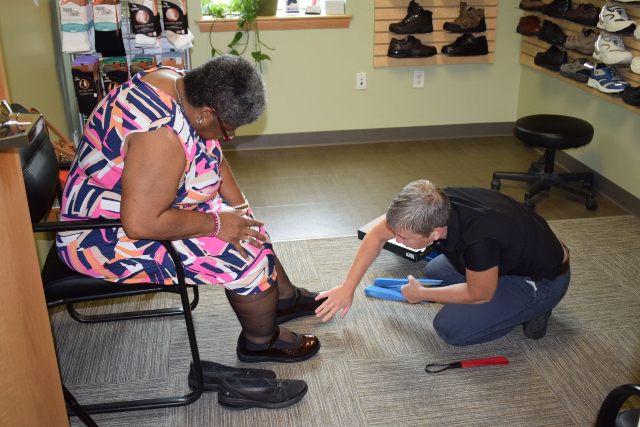 For patients transitioning out of a rigid device, or those needing extra stability and pressure relief, the seamless construction and soft linings of diabetic shoes eliminate rubbing, while extra depth accommodates inserts. Inserts are pocketed out so that existing wounds can finish healing, and can also be used to prevent wounds from developing by offloading conditions such as pre-ulcerative calluses.
Left untreated, a patient may over compensate to reduce pressure on a painful area. This can throw off balance and lead to further injury. Correctly fit shoes and inserts restore stability and confidence.
Compression Therapy
Prescribed for existing wounds, compression promotes healing by improving blood flow and reducing swelling in patients with conditions such as venous leg ulcers, chronic venous insufficiency (CVI), edema, lymphedema, and bariatric issues.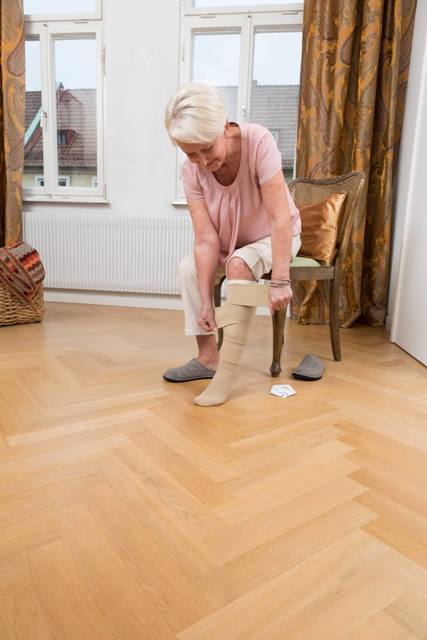 The circaid juxtalite® HD is the market standard for treating wounds with measurable compression. Its wrap style and adjustable Velcro straps make it easy for patients to don, doff, and adjust safely over sensitive wounds. Its inelastic construction allows physicians to recommend up to 23 hours per day of wear.
Patients with compromised circulation may be co-treated with a circaid juxtalite® HD on the wound-affected side and a compression stocking on the opposing limb. After healing, compression may be part of long-term maintenance and prevention plans.
Prosthetics and Wound Care
The path to amputation and road to recovery look different for each person. Our team is committed to providing amputees with lifelong care, beginning with wound management.
Healing After Surgery
A Rigid Removable Dressing (RRD) is typically used following a trans-tibial amputation to protect the residual limb from falls and bumping, acclimate the skin to contact, and prevent flexion contractures.For partial foot amputations, the foot bed of wound shoes can be modified to reduce strain on the incision.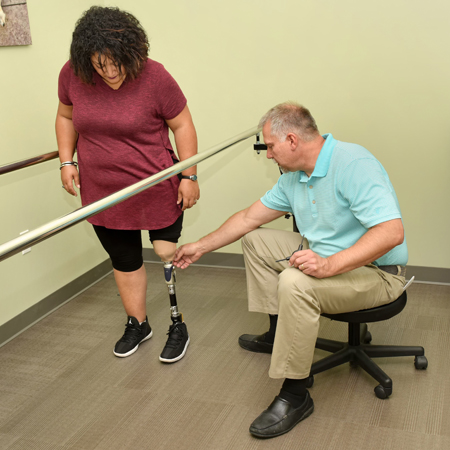 Preparing for a Prosthesis
A shrinker (compression garment) encourages circulation so an incision can continue to heal. It can be worn with or without an RRD to manage pain, reduce swelling, and shape the residual limb in preparation for a prosthesis.
Preventing Wounds to the Residual Limb
To minimize wound occurrence, significant planning goes into our prosthetic design process. Hand casting and in-house fabrication ensure our sockets accommodate each patient's unique physiology with precision. Built-in adjustability, skin-friendly liners, and soft interfaces are part of our preemptive approach. Gradual use of a device, frequent skin inspections, and careful sock adjustments are crucial for wound prevention.
If a wound surfaces, such as from a systemic infection or overuse of a device, we can post and pad around the infected area and push out material to reduce pressure. Early detection and intervention minimizes downtime.
Preventing Injury to the Sound Limb
An amputation can put the unaffected limb at risk for injury from hopping and overuse. A prosthesis is one tool that helps even out this pressure. By selecting components that promote flexion and stretch, we can encourage a smooth gait and lessen pounding on the sound foot. Compression garments and/or shoes and foot orthotics may also be used to support the sound side.