It's a Hot One! Tips for Enjoying Water Activities and Managing Sweaty Summer Days with a Prosthetic Limb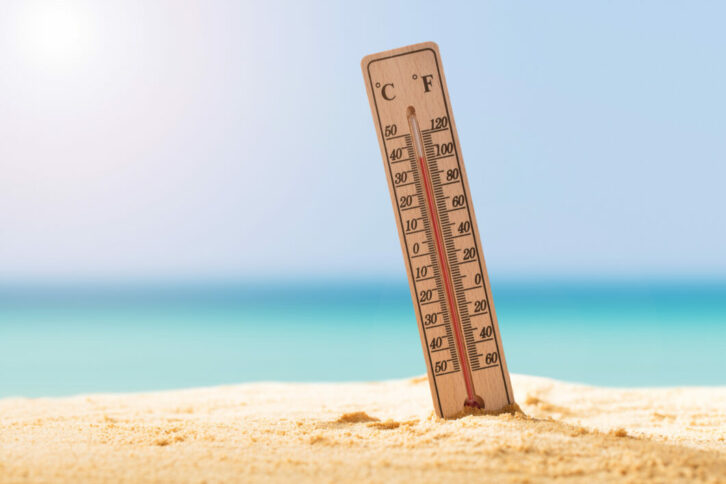 Mother Nature is bringing on the heat this summer. When temperatures and humidity are on the rise, questions about water activities and limb care on sticky days are common in our office. Here, we share some tips to help keep prosthetic users active and comfortable and their devices in good shape. 
First and foremost, we offer a reminder that our practitioners and technicians are available to answer your questions, discuss options and solutions for specific situations, and check and clean your device after exposure to summer elements. Remember, there is no cap to the number of visits you can make to our office and no additional charge. We want to see you and assist you with your device in any way we can, at any time.
Water Activities
For many, summer is synonymous with water fun. Whether at the pool, lake, or seashore, water activities provide a focal point for relaxation, exercise, relief from the heat, and socializing with family and friends. Your prosthetic limb is a tool to help you participate in the activities you enjoy, and being in and around the water is no exception. 
Wading in the Water
A regular prosthetic leg will allow you to wade in water below the level of your socket. If your device has a foam cover, you will want to wrap it with a shower cover or other protective covering recommended by your prosthetist. Fully submerging the leg is not a good idea as it risks water getting behind the socket liner and the device detaching from your residual limb. 
After wading, a fresh water rinse of your device is important, especially if you are spending time in sand and salt water. After a beach trip, stop in to see us so we can take apart and thoroughly clean your components. This will help prevent damage to your carbon fiber foot.
Swimming
Swimming is one of the best exercises around, providing significant benefits to both the body and mind. As Élan Young describes, swimming "can offer soothing relief from aches and pains as well as an increased sense of balance. It can offer a chance to exercise freely without the burden of prosthetic limbs, and it can bring people together for meaningful social interaction." 1

Many amputees swim without their prosthetic leg, while some choose to use a specialized swim leg, which is essentially a submergible socket with a fin attached. Having a conversation with your prosthetist about the water activities you participate in – or would like to try – and the appropriateness of a swim leg will be an important step in discovering what will work best for you.
Planning for your safety in and around swimming areas is important to consider and discuss with your prosthetist. For example, removing your prosthesis and hopping across a slippery pool deck to the ladder puts you at risk for a fall. Instead, consider where you will remove and store your device and how you will enter the water safely based on the physical layout of the water area you will be using. If visiting a new location, inquire ahead of time about access to water areas so you can think about the best approach to take and whether crutches, a wheelchair, or other assistive device may be helpful when removing your prosthesis and making your way to the water.
Managing Sweat and Volume Changes
Volume fluctuations as well as the impact of sweat on wearing a prosthesis are common concerns in hot and humid weather. Some ways to minimize swelling and keep your residual limb comfortable include:
Talk with your practitioner or physician about products for controlling perspiration that will be best for your skin.

Change your prosthetic socks more often and bring extras with you when traveling. 

If you have trouble with swelling, you might sleep with a shrinker (NOT a liner) on your residual limb. If a shrinker is helpful, be sure to bring a few with you when traveling.

You might also take a cool shower and/or relax in an air-conditioned room for a bit before donning your prosthesis if swelling is problematic.

Keep your limb and socket liner/interior clean to avoid bacteria build-up. When traveling, bring along the soap you use at home that you know does not bother your skin. Hotel soap, for example, may contain perfumes or other ingredients that irritate your skin. Remember to rinse, rinse, and rinse again to ensure there is no soapy residue left on your skin or any device parts that will touch your skin.

Check your skin more often for any breakdowns.

Watch your summer diet! Especially when you are on vacation or it is too hot to cook at home, you may find yourself eating out more often. Avoid foods that are high in salt (sodium) and nitrates as they cause the body to retain fluid.

Pace yourself.

Our patients are at various stages of experience with their prostheses. Some are just learning to walk with their device, while others are quite adept. Physical fitness levels vary greatly as well. With this in mind, we encourage our patients to choose activities that are a good fit for their current level of ability and stamina and to be mindful of the additional effects excessive heat can have on their bodies. 
Summer is a time to get out and enjoy all of the special activities and relaxing moments you look forward to throughout the year. Your prosthetic device is meant to help you do all of the things you want to do. Taking good care of your overall health, your residual limb, and your device will help you weather the heat and ensure you are not sidelined from any summer fun. 
Do you have additional tips to share? Let us know! Click here to send us a message.
Resources
1 Young, E. Aquatic therapy is serious fun. InMotion. 2008; 18(6):44-45.