"Shoes make people happy. They dance when they put them on!…I enjoy helping people and knowing that what I build offloads something that has been painful."
Affectionately known as "The Shoe Girl" by many of her loyal patients, Lisa Ryan is our resident expert in corrective footwear and foot orthotics. Lisa joined our team in 2009 after ten years as manager of a running shoe company. The wider range of issues that our practice treats intrigued her. Seeking to expand her training in conditions that impact the feet and lower limbs, Lisa attended the International School of Pedorthics and earned her certification from the American Board of Certification in 2010.
Our patients' faces light up when they see Lisa – and for good reason! Not only does her warm, fun personality put them at ease, they know they are going to feel relief.
"Shoes make people happy," says Lisa. "They dance when they put them on! A basic adjustment can be euphoria. I enjoy helping people and knowing that what I build offloads something that has been painful."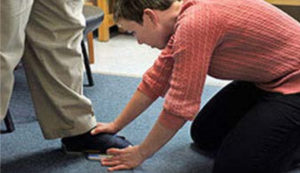 Lisa shares our team's commitment to patient-centered care. The time she takes to assess her patients' needs ensures she develops appropriate treatment strategies, which can range from a basic product to a customized solution. Her focus is always on providing the best option for each patient's lifestyle and goals. Drawing on her knowledge of lower limb anatomy and biomechanics, she helps patients understand the source of their pain and how to support the body correctly from the foot up.
Many of our orthotic and prosthetic patients also see Lisa for their footwear needs. This creates opportunities for collaborative problem solving. The result is exceptional continuity of care for our patients. Lisa can fit patients for shoes that will accommodate bracing, provide inlays that support wound care or relieve pain from vascular conditions, and build customized fillers for patients with partial foot amputations.
"We are a team here," Lisa emphasizes.
Once fit with a corrective shoe or inlay, many patients typically see Lisa once per year. However, the relationship she builds with her patients instills confidence in her skills and keeps them coming back. A solution that was appropriate at a given point in time may not longer be ideal, so the conversation and treatment plan is always evolving.
"Everything we do, we are going to need to do again. Personal preferences, lifestyle, fluctuations with the body, and changes with anatomy happen over time," she explains.
And when patients return, they can count on Lisa to be there waiting with a smile.