"To get someone walking again is an amazing experience."
As an undergrad, Chris Cabrini knew that majoring in medical rehabilitation at Springfield College would be a springboard for finding his specialty in therapeutic healthcare. Working in adaptive seating at Shriner's Hospital after college, he was drawn to the broad spectrum of care he observed in the prosthetic and orthotic department. This solidified his decision to further his education. He completed his post-baccalaureate training at the Newington Certificate Program in Orthotics and Prosthetics, an affiliate of the University of Connecticut and the only one of its kind in the Northeast at the time.
Chris brings 20 years of experience as a prosthetic and orthotic practitioner in western Massachusetts and Connecticut. He has been ABC certified since 2005. Having worked alongside Craig Babyak and Chris Rogers when the three were getting started in the field, he knows he is joining a team that puts patients first. He respects the work ethic and core values that define the standard of care at Prosthetic & Orthotic Solutions.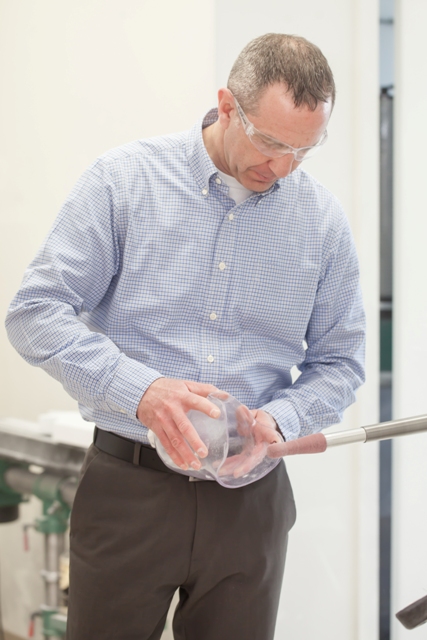 "I like the fact that wanting to do what's best for the patients is the main goal," says Chris.
Chris emphasizes that the work they do is much more than putting a device on someone. It often requires creativity and thinking outside the box, something he particularly enjoys about his work.
"Everyone is different," he says. "What's going to work great for one person is not going to work at all for someone else."
Chris's attentive nature puts patients at ease; it is a team effort from beginning to end. Valuing what patients have to say and finding out their whole story enables him to find the right solution for each person. He appreciates that patients experiencing a life-changing condition may feel vulnerable and unsure of what to ask.
In order to build the best device, Chris says, "It is up to us to ask questions and get as much information as possible. I need to understand a patient's physicality and the things they do on a daily basis to know what their functional needs are."
For Chris, the greatest reward is improving someone's life. He's seen people driven to tears when standing with a new prosthesis because they never thought they'd be on their feet again. "To get someone walking again is an amazing experience," he says.
Outside of P&O, Chris's biggest focus is enjoying his family. He resides in Easthampton with his wife, a physical therapist, and his two children.
Chris looks forward to building relationships and providing exceptional prosthetic and orthotic care to patients of all ages.