"I love that what I design allows people to do things they could not do before."
A lifelong athlete, Bob originally had his sights set on a career in physical therapy. He played soccer, football, and rugby, and injuries he incurred along the way guided his interest in physical rehabilitation. While earning his Associate of Science degree from Springfield Technical Community College, a rotation at a rehabilitation hospital introduced him to orthotics. He observed bracing clinics where patients were evaluated, casted, and then received their devices a week later. Bob was fascinated with the design process that happened in between. Having enjoyed construction work in high school, he realized that a career in orthotics would allow him to combine his interest in physical therapy and love for building things with his hands.
Bob has been with Prosthetic & Orthotic Solutions, LLC, since 2011. His background in physical therapy enhances the skills and perspective he brings to his work as a certified orthotist. He has been a licensed physical therapist assistant since 1997, has worked in the prosthetic and orthotic industry since 2002, and has been American Board Certified in orthotics since 2005.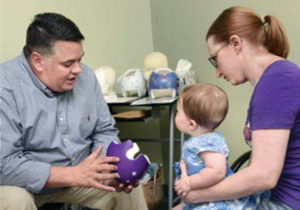 His work experience includes participation in a local pediatric orthotic clinic, management of an orthotic central fabrication facility, and an on-call orthotic provider for area hospitals.
"I truly enjoy helping people," says Bob. "I love that what I design allows people to do things they could not do before."
A self-prescribed "big kid," Bob has a special interest in working with pediatric patients and their families. He understands kids can be intimidated by medical settings, so he makes every effort to find out the things his patients enjoy and incorporates those things to make visits feel less clinical. It's not unusual to hear him singing a Disney song to help a child through a casting appointment!
Bob works just as hard to earn the trust of his youngest patients as he does his adult patients. He is a firm believer that talking with children honestly and at their level is the best approach to gaining compliance.
"The only way anything we do works is for the patient to be willing to use what we make for them," Bob explains. "By educating our patients of all ages on what their options are, helping them understand how things work and why certain options are better than others, we can give them support and a device that they will wear."
Additionally, Bob welcomes community outreach opportunities that allow him to inspire others to consider a career in orthotics and/or prosthetics. He enjoys visiting with high school students to broaden their understanding of health care professions.
"Our field is a lesser known part of the health care community," says Bob, "but it is an important one that needs more practitioners. We need to provide kids with other options to consider."